By Ashley Gordon
As part of The Coastal Society's Coastal Connections web conferencing series, the Coastal Society (TCS) hosted two Professional Spotlight sessions featuring TCS members in 2022. During these Spotlight sessions, TCS members have the opportunity to learn about the career path of a featured TCS member, discuss career tips, and connect with other TCS members at various stages of their careers. To receive invitations for future Professional Spotlight sessions, please be sure your TCS membership is current. Join or renew at Membership – The Coastal Society. You can also read more about the Coastal Connections series on the TCS website.
Our 2022 featured speakers included Amy Whitt, founder and CEO of Azura Consulting, LLC, and Don Davis, Director of Oral History for the Louisiana Sea Grant Program. Highlights from each of the sessions are shared below. To access recordings of these sessions, TCS members may request a link by sending an email to admin@thecoastalsociety.org.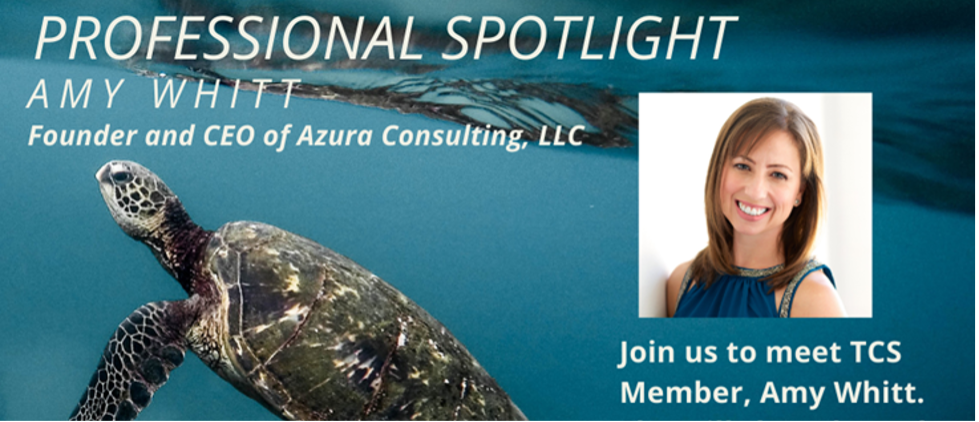 Amy Whitt, founder and CEO of Azura Consulting, LLC, was our guest speaker during the session held on May 17, 2022. Amy provided an overview of her career path to starting and growing an environmental consulting firm that provides services focused on the research, conservation, and management of protected species, populations, and habitats, outreach and education, and professional communication. The Azura team has worked with federal and state agencies, private organizations, non-profit organizations, academic institutions, and the offshore energy industry. Amy also shared her experiences working in marine mammal and sea turtle research, coastal environmental management, conservation and education, and ocean policy.
Amy offered several tips for pursuing a career path in environmental consulting, including the importance of writing skills, maintaining a personal resume database of your skills, training, and certifications, building your professional network, and volunteering time to give back to the scientific community. View Amy's presentation HERE.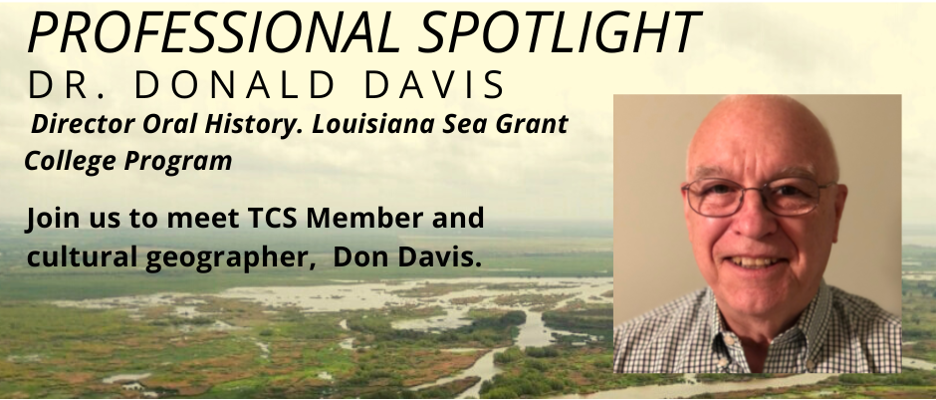 Don Davis (PhD), Director of Oral History for the Louisiana Sea Grant program, was our guest speaker during the session held on October 6, 2022. Don recently co-authored a book, Asian-Cajun Fusion: Shrimp from the Bay to the Bayou, with Carl Brasseaux. This book traces the origins of the shrimp drying industry in the United States back to 1870, when Chinese immigrants founded the industry in New Orleans. The coastal Lousiana region continues to export dried shrimp to Asian markets domestically and internationally. Don noted that "the [coastal Louisiana] landscape is and has always been a working coast. The coast is not a place but a process; it only becomes a place when people live there."
Don offered several pieces of advice based on his experiences, including how critical it is to understand the human dimension and engage with people before making decisions. Don also emphasized the importance of following your passion, learning something new everyday, and working hard while maintaining a work-life balance. View Don's presentation HERE.
We thank all our guest speakers for taking time to share their stories! Stay tuned for more TCS Coastal Connections sessions coming in 2023!