Officers
STEVEN MACLEOD (President)
Steven MacLeod is an Environmental Scientist with Ecology and Environment, Inc. (E & E) in Buffalo, New York. Since 2011, he has primarily assisted clients along the U.S. Gulf and East Coasts with environmental assessments, coastal consistency analyses and permit applications for onshore and offshore natural gas and electric transmission lines, as well as renewable energy projects (wind, solar, marine hydrokinetic).
Before joining E & E, Steve was employed by the Florida Department of Environmental Protection in Tallahassee, Florida. As part of FDEP's Bureau of Beaches and Coastal Systems, Steve coordinated the evaluation for local and federal shoreline protection projects such as beach nourishment and sand bypass operations primarily along the Atlantic Coast. He was also responsible for reviewing dredge/fill projects in intracoastal waterways and deepwater ports throughout the state, including analyses of potential impacts on water quality and biological resources.
Steve holds a B.S. in Physics from the University of Puget Sound and a M.S. in Oceanography (Coastal Zone Management) from the Florida Institute of Technology. He has been a member of The Coastal Society since 2004. As President-Elect, Steve will support the current efforts of the TCS board and officers to establish the Margaret A. Davidson Career Development Program as a mainstay of the Society. He will also encourage further committee initiatives to modernize and streamline TCS, e.g., through social media outreach and student chapter communications, to better serve our members and ultimately grow our TCS community in the years to come.
TRICIA HOOPER(President-Elect)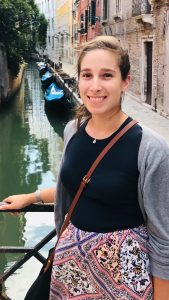 Tricia Hooper is an ocean expert who is passionate about using science to inform policy-making and improve outcomes for people and the planet. An experienced facilitator and leader, she thrives in convening diverse teams to solve today's environmental management problems. Tricia first joined The Coastal Society in 2014 and has served on the Board of Directors since 2018. In addition to her role serving on the Board, and she volunteers as Chair of the organization's Diversity, Equity, and Inclusion Working Group and is a member of the TCS Development Committee.
In her full-time job, Tricia is a Regional Coastal Management Specialist at NOAA's Office for Coastal Management. In this capacity, she serves as a policy and technical expert on the Coastal Zone Management Act (CZMA), advancing the programmatic capabilities, effectiveness, and efficiency of CZMA Programs across the New England, Mid Atlantic, and the Great Lakes. Previously, Tricia worked as a Program Coordination Officer supporting NOAA's Office of the Undersecretary of Commerce for Oceans and Atmosphere, where she advised the NOAA Administrator on eight National Ocean Service programs, and enhanced collaboration on a diverse portfolio of scientific and management issues across the agency.
Before joining NOAA, Tricia worked at the Natural Resources Defense Council, Duke University, and the U.S. Fish and Wildlife Service. She is the recipient of the 2019 Robert W. Knecht Award for Professional Promise and the 2018 National Ocean Service Outstanding Team Member of the Year Award. Tricia holds a Master of Environmental Management from Duke University and a Bachelor of Environmental Science from the University of Massachusetts Amherst. Born and raised along the coast in Boston, Tricia loves traveling and spending time outdoors, especially swimming and hiking with her dog.
AVERY SICILIANO (Secretary)
Avery Siciliano is a Corporate Responsibility Manager at the Global Aquaculture Alliance's Best Aquaculture Practices certification program. In this role, Avery fosters sustainable seafood supply chains by creating environmental and social accountability standards for farmed seafood. In addition, she works with aquaculture facilities across the globe to ensure human rights and environmental laws are being followed. Prior to her role at Best Aquaculture Practices, Avery worked as a research associate for ocean policy at the Center for American Progress and as a sustainable seafood fellow at Oceana in Washington, D.C. Her focus was on domestic and international marine affairs, especially sustainable fisheries management and coastal land use practices.
Avery holds a bachelor's degree in biology from Vassar College and a master's degree in environmental economics and policy from Duke University. For her master's project she developed a toolkit for project managers interested in creating blue carbon pilot projects. She has been involved with The Coastal Society for more than four years, first as President of the Duke University Student Chapter, then serving as a student liaison to the Board, and now as a Director on TCS Board. Avery is currently serving her first year as Secretary.
CHRISTOPHER KATALINAS (Treasurer)
Christopher Katalinas is the Grants and Agreements Coordinator with NOAA's Office for Coastal Management (OCM) in Charleston, South Carolina on contract with Lynker. He serves as the administrative point of contact for a variety of matters related to OCM financial assistance, including maintaining and improving internal controls for grants management; monitoring the timely submission of performance and financial reports; and tracking the obligation of federal grant funds appropriated annually. One of his major accomplishments involved setting up a tracking spreadsheet that pulled data from multiple excel sheets to provide summary statistics of grant obligations in real-time. Christopher is also responsible for maintaining extensive records of active and expired interagency agreements, as well as providing technical support to OCM's program officers to ensure compliance with federal regulations and NOAA policies as they pertain to financial assistance. Christopher holds a M.S. in Marine Biology from the College of Charleston and a B.S. in Biology from Dickinson College. Christopher is new to The Coastal Society, but is very passionate about promoting communication and education about coastal management issues.
DIRECTORS
KELLY DOBROSKI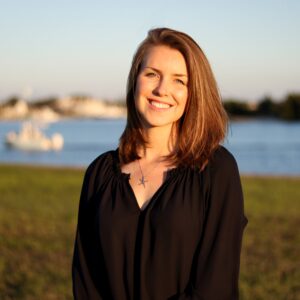 Kelly Dobroski is a Science Communicator at the Integration and Application Network. In this role, Kelly develops communication tools, such as ecosystem report cards and symbols, for local and international clients. Prior to this role, she worked as a nature-based solutions specialist at the North Carolina Coastal Federation, where she co-developed the state-wide nature-based stormwater strategy action plan.
Kelly holds a bachelor's degree in Environmental Science from Washington College and a master's degree in coastal environmental management from Duke University. For her master's project she developed a handbook for coastal managers on using drone technology to study coastal wetlands. Kelly also volunteers as the Surfrider DC Chapter Policy Coordinator, where she tracks relevant policies and develops campaigns for the local chapter.
Kelly's involvement with The Coastal Society began as a volunteer in the Duke student chapter, and continued as a volunteer on the communications and MAD career workshop committees prior to serving as a Director on TCS Board. In her free time, Kelly loves to paddle board and train for half and full distance marathons.
JEFF FLOOD
Jeff Flood is a Coastal Planner with the Virginia Coastal Zone Management Program in Richmond, Virginia. In this capacity, he works with several state agencies as well as regional and local governments to administer enforceable policies that protect coastal resources and foster sustainable development in the coastal areas of the Commonwealth. His principle duties include program review, policy formulation, grant proposal writing and administration, and providing technical assistance to local governments. Jeff also provides subject matter expertise on shellfish aquaculture and coastal habitat restoration, acquired from undergraduate internships, graduate research, and his previous position with Wetland Studies and Solutions, an environmental consulting firm in Virginia Beach.
Jeff holds a master's degree in marine policy from the University of Delaware and a Bachelor's of Science in marine biology from the University of North Carolina-Wilmington. Collectively, Jeff uses his interdisciplinary educational and professional background on a daily basis to work with both Federal and local government partners, bringing a unique perspective to TCS on how policy success stories at the local level can help inform state-wide and national initiatives.
Jeff began his involvement in TCS as a senior in high school when he attended the 2006 conference in St. Pete Beach, Florida – the first of many TCS conferences he would go on to participate in. At that conference, Jeff administered a career survey which he had developed with the help of current Board member Tom Bigford, then working for NOAA. The survey results and advice from numerous mentors over the years have been instrumental in directing Jeff's coastal career path and he hopes to guide the development of the next generation of coastal professionals by helping to organize and participate in Margaret A. Davidson (MAD) career development workshops.
ASHLEY GORDON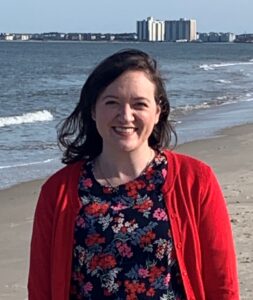 Ashley Gordon is a resilience planner with Dewberry in Virginia Beach, VA. In this role, she supports the resilience solutions group with natural hazard and community resilience planning. Before joining Dewberry, Ashley was a coastal analyst with the Hampton Roads Planning District Commission (HRPDC) in southeastern Virginia, where she supported the Hampton Roads regional Coastal Resiliency Program through research and analysis, policy development, and coordination with local governments, focusing on flooding and sea level rise. Prior to beginning her career, she conducted ecological research and geospatial analysis in support of projects for NOAA's Office for Coastal Management, NOAA's National Marine Fisheries Service, and the North Carolina Coastal Land Trust.
Ashley holds a Master of Environmental Management with a coastal focus from Duke University and a Bachelor of Science in zoology and environmental science from Miami University (OH). She began her involvement with The Coastal Society as a graduate student at Duke University. She now serves on the Communications Committee and supports the TCS Coastal Connections web conferencing series, which connects coastal practitioners/students and supports dialogue around coastal management topics.
LISA KIM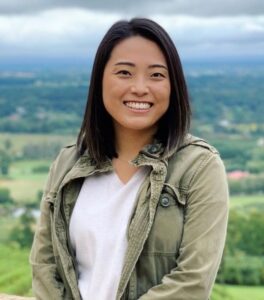 Lisa Kim is a Congressional Affairs Specialist at NOAA's Office of Education in Washington, D.C. In this capacity, she develops an annual congressional strategy to communicate the value of NOAA Education to Congress. In addition to this work, she helps lead the youth engagement efforts of the Coastal Ecosystem Learning Centers network, which is a consortium of 25 aquariums and marine science education centers across North America. She works to empower aquarium teens to protect coastal and marine ecosystems and engage their peers to do the same. Prior to joining NOAA, Lisa worked at Illinois-Indiana Sea Grant on the Aquatic Invasive Species team where she supported their outreach efforts to educate the public on preventing the introduction of Aquatic Invasive Species into Lake Michigan.
During her undergraduate and graduate years, Lisa studied the effects of plastic pollution on important ecological processes in urban freshwater streams. She holds a Bachelor of Science and a Master of Science from Loyola University Chicago. As a first-generation immigrant from South Korea, Lisa is passionate about mentoring young students from similar backgrounds and empowering them to pursue their educational and career goals. In her free time, she enjoys climbing, hiking, and sharing her love for the Great Lakes!
ALEXIS MAXWELL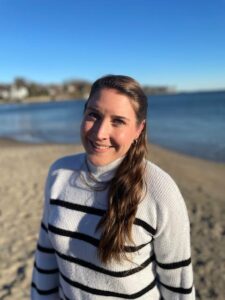 Alexis is currently a Communications and International Policy Specialist supporting NOAA's Office of Coast Survey via Lynker. In this capacity she supports policy and planning processes related to international governance in bilateral and multilateral settings, supports leadership in decision-making processes on program and policy issues, and supports a range of communication and outreach materials.
Prior to supporting Coast Survey's communication and international programs, Alexis served as a policy analyst with the Global Ocean Forum, where she facilitated the preparation and presentation of policy recommendations from the NGO perspective to the United Nations, United Nations Framework Convention on Climate Change, and other international processes.
Alexis holds a master's degree in marine policy from the University of Delaware where her research focused on state level management of the summer flounder resource under climate driven stock movement. She also had several internships while completing a Bachelor of Arts degree in Environmental Studies at American University, including interning in the Office of Senator Patrick Leahy where she experienced congressional processes and government relations first hand. Alexis hopes to bring her passion for coastal issues and stakeholder outreach to The Coastal Society.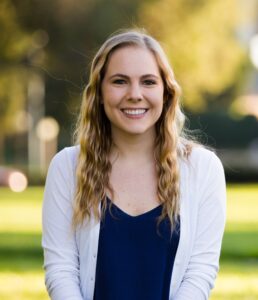 Adrian Laufer is a NOAA Coastal Management Fellow with the Oregon Coastal Management Program. She primarily focuses the stewardship and management of publicly-owned coastal lands through inter-agency coordination, education & outreach, GIS solutions, and strategic planning. She is currently gathering data about every publicly owned coastal site within Oregon's coastal zone, which amounts to 1,245 locations over 362 miles and a whole lot of driving!
Adrian holds a bachelor's degree in environmental policy & management from the University of Redlands and a master's degree in marine public policy from Oregon State University. At Oregon State University, Adrian concentrated her education and research on policy and management inputs (i.e. funding, strategic planning) that support effective marine conservation initiatives, particularly the Oregon Marine Reserves. She was also awarded a competitive graduate fellowship through the National Science Foundation Research Traineeship Program, which supported year-long participation on a transdisciplinary research team investigating social and ecological changes associated with implementation of Oregon's 5 Marine Reserves. Adrian is new to The Coastal Society and is looking forward to contributing to the development of this field and community of interest.
EUGENE (GENO) OLMI
Geno has a broad background in coastal, estuarine and marine research and management. He has served as Coordinator for NOAA's Southeast and Caribbean Regional Collaboration Team (part of NOAA's Regional Collaboration Network) for the past ten years. In this capacity, he works across the agency and with partners to address regional issues and needs within NOAA's purview. Geno has been with NOAA for 23 years, 13 with NOAA's Coastal Services Center (now Office for Coastal Management), conducting work on coastal environmental characterizations, coastal and ocean observing systems, and science to management applications. Prior to his career with NOAA, Geno worked as Assistant Director of the Virginia Sea Grant Program and as a fisheries biologist with the South Carolina Department of Natural Resources. He holds degrees in Biology (B.S.) from Furman University, Marine Biology (M.S.) from the College of Charleston, and Marine Science (Ph.D.) from William and Mary. Geno has been a member of The Coastal Society for over two decades. He was a regular at TCS biennial meetings for many years, presenting often and occasionally organizing sessions.
ANDREW WILSON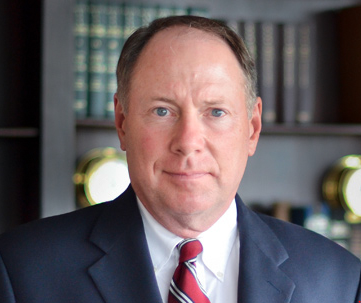 Andrew Wilson is an attorney and partner at Milling Benson Woodward LLP in its offices in Mandeville and New Orleans, La. He originally hails from Bristol, RI, an old seaport dating to the 1680's, but travelled south to the Port of New Orleans in 1979 to study maritime and environmental law and never left. His maritime practice has involved ship collisions, vessel seizures and arrests, personal injury and death claims, sinkings and groundings, cargo damage and pollution claims. His environmental practice has evolved around fisheries, particularly the oyster industry, including off-bottom oyster culture permitting, drafting of oyster lease forms as well as legislation, regulatory rulemaking and litigation involving ownership of water bottoms in Louisiana territorial waters.
Relatedly, he has also successfully defended the State of Louisiana in the two largest inverse condemnation or "takings" cases in Louisiana history involving multi-billion dollar claims by oyster fishermen who alleged their oyster leases were destroyed by the freshwater outfall from the Caernarvon coastal restoration river diversion project. That litigation resulted in an opinion from the Louisiana Supreme Court which redefined the public trust doctrine, now a critical consideration in Louisiana's massive, ongoing coastal restoration efforts. He has also conducted successful natural resource damage recovery actions for damage to the State's Public Oyster Seed Grounds.
Outside of litigation, he has served as a consultant to the State and private clients on coastal restoration issues, and is an External Advisory Board Member for the LSU Coastal Sustainability Studio, which addresses vulnerability to coastal hazards, habitat degradation, and global environmental change. He is also a frequent speaker on coastal restoration and fisheries issues; a Board member and Conservation Chair of the Orleans Audubon Society; and, a former Board member and Marine Insurance Committee Chair of the Maritime Law Association of the United States. He received his BA in History from St. Lawrence University and his JD and LLM in Environmental Law from Tulane Law School.